Testimonials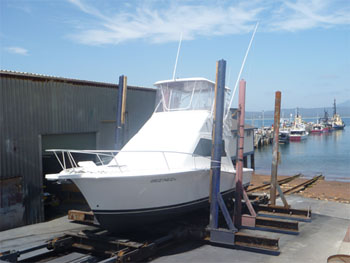 "I have slipped my vessel "Beez Neez" at Eden Slipway Services now for the last three years. It has been an easy, painless process.
From pressure washing, painting, prop speeding, electrical or engine maintenance I have the confidence in ESS staff to do what's right for my investment and pride and joy."
Brian Knox, Eden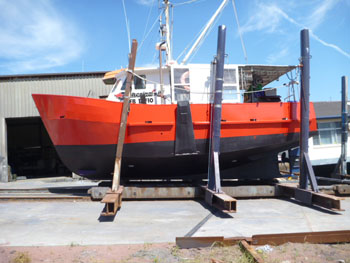 "I slipped my vessel "Catherina J" for 12 years prior to selling her only just this year. I don't think it could have been easier anywhere else. The knowledge and expertise with which Eden Slipway Services looked after my vessel was first rate."
Shannon Fanthom, former skipper of Catherina J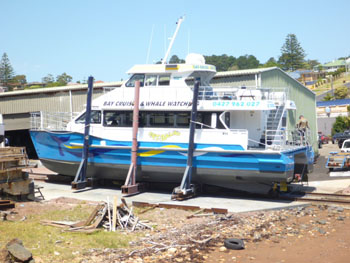 "For the past 28 years our company has been operating the charter vessel Cat Balou from the Port of Eden.
Eden Slipway Services have been used for the general maintenance which includes slipping the vessel at least once a year.
We have complete confidence in their workmanship which has always been carried out with a minimum of fuss. Once our crew assist in getting Cat Balou into dry dock we are happy to leave the slipway management and staff in charge of the work knowing that the job will meet out expectations and will be completed in the stipulated time frame."
Gordon Butt, Cat Balou Cruises, Eden
"Svitzers have been slipping our work boats "Sherlock", "Snug Cove" and our work barges at Eden Slipway Services for longer than I care to remember. The process of slipping our vessels has never been an issue and the staff at ESS has always been accommodating in our needs. They have performed all sorts of work on our vessels from welding, sand blasting, painting and fabricating. Their work is first class; I would highly recommend anyone slipping their vessels with Eden Slipway Services."
Chris Timms, Svitzers
"Great place to get your boat taken out of the water. Very professional service and the work is first class. Recommend to anyone."
Craig Chambers, Rathlin II Fishing Charters